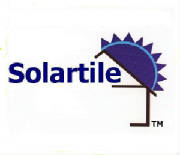 The integrity of the material used was designed for solar heating.

All materials verified through UL Labs, NSF testing.

Lightweight insulated roof covering will provide for lower construction costs and higher insulation (R) value for a building roof covering.

Reliable durable material will retain its original material properties, protecting the building structure.
Solartile offers advantages to consumers over what has been offered by the solar collector industry to-date.
Solartile PVC fittings provide a universal plumbing system for solar heating
Solartile circulates water for solar heating
Solartile simulate barrel tile style roofing